Get your free website at Tripod.com
---

---
2009 - Mitch Godden continues to race a godden laydown in world longtrack races, even scoring a win or two with the older model engine. The new Godden laydown is still under developement. Here are a few CAD images of the progress....
Godden returns to Long Track racing in 2005!!
Finally!!! Godden racing will be debuting a new long track engine in the 2005 long track championship. Former World L/T Champions Kevin Tatum and Marcel Gerhard(1992 L/T champion on a godden) will be using the prototype goddens with the hope of having a production model available in the near future.
---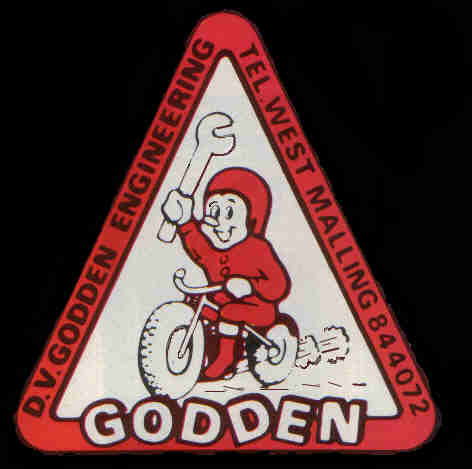 Godden History
When Don V. Godden was a little boy in Great Britain, he loved to watch the longtrack riders. When he was old enough to obtain a license, he quickly bought a BSA to race. His riding ability quickly upgraded him to a JAP bike.

Don would win several national championships, and after finishing 2nd in 1967 & '68, Don finally won the longtrack championship in 1969. He would finish 2nd in 1970.

Don was not only an accomplished rider, he was also known for his machanic's skills. A "Don Godden Special" (DGS) was always "THE" bike to have. Originally designed to house JAP engines, a new engine would soon find it's way into a DGS.

Don Godden and Harry Weslake decided to challenge the stronghold that the JAWA engines had on speedway by introducing a totally new four-valve engine. In 1975 Don installed a Weslake MK1 in one of his DGS bikes and it was an instant contender for the JAWA's.

In 1978, after studying the features of the Ken Maeley speedway engine, Don decided to introduce an engine of his own, and the GR500 MK1 was born. Sporting a four-valve, single cam driven by a chain, it was a departure from the pushrod 500cc engines of old. Now a Godden customer could buy a Godden engine in a Godden frame. When leading-link front suspensions were introduced in the 1990's, Godden also offered those of his own design.

Many championships were won by Godden riders, giving testimony to Don's strength as a builder. Godden GR500's can still be found today racing throughout the world, but are becoming more difficult to find. The newest Godden, a laydown magnum, is very competitive in today's grasstrack racing. Don's son, Mitchell Godden, is continuing his fathers winning ways by competing in grasstrack races. Although on a laydown Godden bike for many years, mitch has recently switched to a GM as per his sponsorship agreement. We can only hope he will return to racing a godden in the near future. A Godden laydown can be custom made for you today starting at $3,000.00 just for the engine.

Don Godden also built a 1000cc v-twin sidecar engine based on his GR500 engine. I enjoy watching two of these sidecars race at costa mesa speedway, USA.

Godden Engineering still have all of the molds for all of the godden engines. Spare parts can still be purchased from them to restore any model ...Great news for us diehard godden riders!! Although not active in speedway right now, Don keeps busy by doing engineering work for lotus cars.

World Champions on Godden Bikes...

Hans Nielsen's godden MK2 from 1982...

Hans Neilsen was world individual speedway champion with a Godden GR500 in 1986, 1987, and1989.
This Godden GR500 was used by Hans Nielsen in the 1990 GP Series.(Ben Ludolphy photo)
Grasstrack racer fitted with a Godden MAGNUM upright. Godden also made complete grasstrack frames and wheels/brake assemblies.
Mitch Godden on a modern grasstrack laydown Godden Magnum 2001.
Shawn Moran won the 1983 world longtrack championship on a godden MK3.

Marcel Gerhard was world longtrack champion on a Godden Laydown MAGNUM in 1992.

Godden magnum laydown currently used in australia.
---
I buy Godden parts!!!!!

If you have any Godden equipement or memorabilia you would like to sell, please drop me an email at
---
Godden Tech Page Enter
Sidecars and mini-sprintcars using Godden engines...
Paul Swindells, Australia. 1985 Godden MAX 500cc




Roadracing 1972 Rickman frame built by RGB of Luton fitted with a Godden MK3 Vtwin. Registered at Godden eng. as DVG/BAXTER. Nicknamed "DORCAS". Used as a sprint hillclimb special.





-----------------------------------------------------